Update – we almost met our budget and are still fundraising to meet the extra building costs. Look at the bottom of this page for a current overview of our received donations.
We need your help to built our own school!
Help us to make this: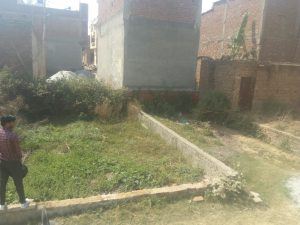 Into this: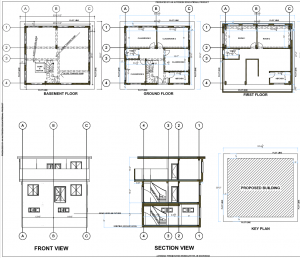 In 2014 we were able to buy a property of 90 square yard just outside Delhi in a farming area with many poor children. Unfortunate shortly after that some problems arose between two previous owners which delayed the possibility for us to construct anything there. Now, 4 years later, the problems are solved, we have exchanged the plot for a little bit bigger one in the same community. Now we have 111 square yard.
And for our exciting plans we need your help! We are planning to construct a basement hall which can be used for church on Sundays and school on weekdays. The ground floor will have 4 classrooms, a kitchen and toilet. And the first floor will be the same. There our teacher will live. In future we want to extend the building to 5 floors. We already asked the architect to design the foundation accordingly and he designed it even strong enough for 6 or 7 floors.
The proces: We already found an architect who made the drawings according to our wishes and who will oversee the construction to make sure it all goes according plan. We found a contractor who is ready to build for a reasonable price and who has no problem to wait with the construction after finishing a floor till there are enough funds for another floor. The building can be constructed in 3 steps: Basement covered, ground floor, first floor.
The costs: The total costs for the constructions are estimated on around € 46.000 (USD 57,000). That means around € 15,300 (USD 19,000) per floor.
We will show below how we already got and as soon as we have enough for the basement we will start construction. Construction will take 2-3 months, we hope to finish the building by July 2018.
So, please help us, share our plans with your friends, on your Facebook, social media, in office, family…  Help us raise the money and be part of the provision for our school! Try to raise money in your church/office/ classroom enough for a classroom (€ 3.825/ USD 4,747). You can make it possible for the children there to learn about God, get an education and learn English. Join us today to make a difference in a life.
* Both buttons below give an option for one-time-payment, but if checked also possible to make it a monthly donation. Contact us if you wish to donate in other currency accepted by PayPal and we can sent you a link accordingly.
Donate in Euro using PayPal/Debit Card/Credit Card:
For donations through bank account check our donate tab on this website. Or click here.
Donate in USD using PayPal/Debit Card/Credit Card:
Overview of received donations and percentage of total goal amount and details per floor: